WELCOME
… to the website of Sharon Leahy & Rick Good
Original Creations & Living Traditions
DANCE, MUSIC, THEATER & FILM
The creative team of Leahy & Good began making art in the 1980s and has proven through the course of the past thirty-five years to be prolific, eclectic, inspiring and entertaining.
Represented here is our work as individuals, as a duo, and in our current ensembles: Good & Young and The Elements. Also included is content which can no longer be found on the former Rhythm in Shoes website at www.rhythminshoes.org.
WHAT'S HAPPENING?
Too much of nothin' can make a man feel ill at ease…
In the midst of this current pandemic there is much to be learned. The excesses and inequalities of the 21st century have been accompanied by a steady stream of man-made violence, natural disasters and bad decisions. Until now, far too many of us hadn't seemed to notice and those who did couldn't help but wonder what it might take. Now we know: a deadly pandemic, the murder of George Floyd and a president who strives to make everything worse.
The year 2020 and our response to its challenges will shape our future and color our fate for many years to come. Personally, as performing artists, our lives have changed radically. Every gig since the beginning of March has either morphed into to some kind of online stream or been postponed until next year. We keep at it as best we can but nothing seems quite as important as staying home, wearing a mask in public, social distancing and, last but not least, voting in November.
SUMMER CAMPS
As everyone knows by now, folks are better off these days not gathering in large groups and summer activities have either migrated to the virtual realm or been cancelled outright.
Wheatland Traditional Arts Weekend (TAW), presented annually by the Wheatland Music Organization in Michigan at the end of May, presented an evening of videos of this year's performers called Wish You Were Here. This included The Family Business (Rick & Sharon, Abby Ladin, Sam Bartlett and Ben Cooper, with Emma & Linzay Young).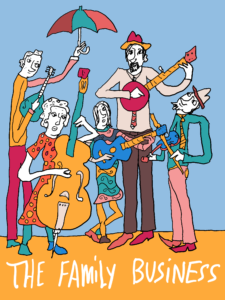 drawing by Sam Bartlett
In July, what would have been for Sharon & Rick a week of teaching in West Virginia at the Augusta Heritage Summer Dance Workshop turned into videos of choreography and music classes and, until August, the online content we'd contributed had all been pre-recorded. Then came Ashokan Southern Week.
For nearly forty years we've been going to upstate New York to teach clogging, banjo playing and harmony singing and, though we certainly missed being there, this year's week long live-streamed camp generously offered an opportunity for people from all over the world to participate AND it miraculously managed to keep the unique spirit of Root Camp alive.
Zooming has become a part of life for many of us and a useful tool for online classes. The screenshot below highlights our daughter Emma as she squeezed about three minutes out her twelve hour shift in the Emergency Room at Acadia General in Crowley, Louisiana to join the team.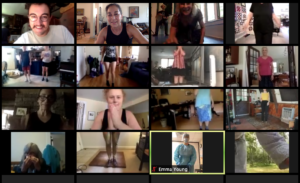 screenshot of Sharon's Team Clogging class
Looking forward to September, another mainstay of our summers has always been the Wheatland Music Festival in Michigan. The virtual offering this year will take place online, September 11, 12 & 13. The schedule includes live performances and music from the Wheatland archives. Carry it on…, Wheatland's 40th Anniversary Project that we spearheaded will be revisited, as will a set of music from the Hotmud Family taken from their many appearances some 35 years ago.
DO SOMETHING
Just over a year ago, our community suffered from one of the most unnecessary curses of our time. It was early in the morning hours of August 4th when a troubled soul armed with military-grade weaponry murdered nine people and injured many others in the Oregon District of downtown Dayton.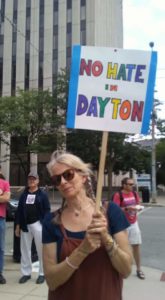 Sharon at the vigil, August 4th, 2019
We could only respond with sorrow, love, repeated calls and letters to our Congressmen and Senators, our votes, and music. The calls to our "representatives" on so many issues, unfortunately, have done nothing. Hopefully, enough of us will vote to change that. Our Music and our Dance, on the other hand, is here for all to enjoy, find comfort in, and share.
And for those of you who remember with fondness the socially conscious folk music of the sixties, our response to the Dayton shooting, Do Something is just one example of some new, original songs Rick has been writing about the current state of our world. You can hear them all on Soundcloud.
Who knows where we go from here but, on our way to wherever it is, let us all strive to learn from the challenges that face us.
DANCE IN THE TIME OF CORONA
Sharon most recent offering is Into the Tunnel, a dance for camera and our time. Watch it and other made for screen dances on her Vimeo Page and feel free to share them.
NEW RELEASE!
At the Corner of Jekyll and Hyde
a new album by Rick Good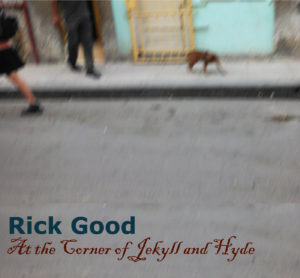 Yes, you can still call them albums.
Bob Dylan once said, The world don't need any more songs. They've got enough. They've got way too many. As a matter of fact, if nobody wrote any songs from this day on, the world ain't gonna suffer for it. Nobody cares. There's enough songs for people to listen to, if they want to listen to songs. For every man, woman and child on earth, they could be sent, probably, each of them, a hundred records, and never be repeated. There's enough songs… Unless someone's gonna come along with a pure heart and has something to say. That's a different story.
And Rick says: I wrote these songs over the course of almost fifty years because I had something to say. As for the purity of my heart, that is a work in progress.
Check out our MERCHANDISE PAGE for more info.
LAST SUMMER'S CAMPS
for info about this summer's camps (which have all been moved online or postponed), see our CALENDAR PAGE.
Teaching dance and music at summer camps has been a part of our lives for nearly forty years. Folks of all ages take time off from their day-to-day lives to learn clogging, square dancing, singing and stringed instrument playing from professional artists. This summer we're on staff at three fine camps.
June 8 – 14 we returned to Miles of Music Island Camp on Three Mile Island in Lake Winnipesaukee, New Hampshire; July 14 – 17 marked our first year at Culture Camp in Trumansburg, New York; July 21 found us at the Five Senses Festival in Washington, Connecticut, and August 12 – 18 we returned to Fiddle & Dance Camp Southern Week at the Ashokan Center in Olivebridge, NY.
This was our second year at the Miles of Music Camp. Based on everything we'd heard, we were expecting great things last summer and we were not disappointed. There really is no camp quite like it and we had an even greater time this year.
So many surprises, so many inspiring artists and so many great songs, old and new. Discovering the uplifting artistry of All My Friends Are Stars was a real highlight.
Next stop: Culture Camp, four days of workshops, dances and dinners that annually precedes the notorious Grass Roots Festival. Hosted every summer in Trumansburg, New York by our pals, Donna the Buffalo, we were blessed with four days of musical inspiration. From July 14th to the 17th, a talented and versatile staff of artists was on hand to share the kind of knowledge that doesn't come from anywhere but hands-on, up close and personal contact.
Lingering an extra day, we were able to catch Donna's Thursday afternoon set and visit with all our Trumansburg friends.
Then, a rare last minute opportunity presented itself and we were off to Connecticut to help make a square dance happen at the Five Senses Festival, hosted by Pilobolus. Joining the evening's headliners, Bela Fleck & Abigail Washburn, along with fiddler, Stephanie Coleman, Rick helped supply the music while Sharon called the figures. She upped-the-ante considerably by directing the Pilobolus dancers in a quick, but inspired mash-up of Pilobolized hoedowning.
Next on the horizon was Southern Week at Ashokan which has been a part of our summers since the early eighties. This beautiful camp in the Catskills is home to the Ashokan Center, the oldest outdoor environmental education organization in New York State.
Among our many Southern Week activities this year, Rick lead an old time banjo class each morning focusing on the songs of Uncle Dave Macon. Sharon's popular Team Clogging class filled each afternoon and the final performance Friday Night was a high point, as usual.


Team Clogging at the Root Review
Enjoy our old-timey version of Bob Dylan's lovely love song, If Not for You, from Southern Week's Old Time Radio Hour, an annual event that features performances by the staff.
The following week found us back at Ashokan for The Summer Hoot, a weekend of peace, love and music hosted by our good friends Mike and Ruthy and their fine band, The Mammals.
THE ELEMENTS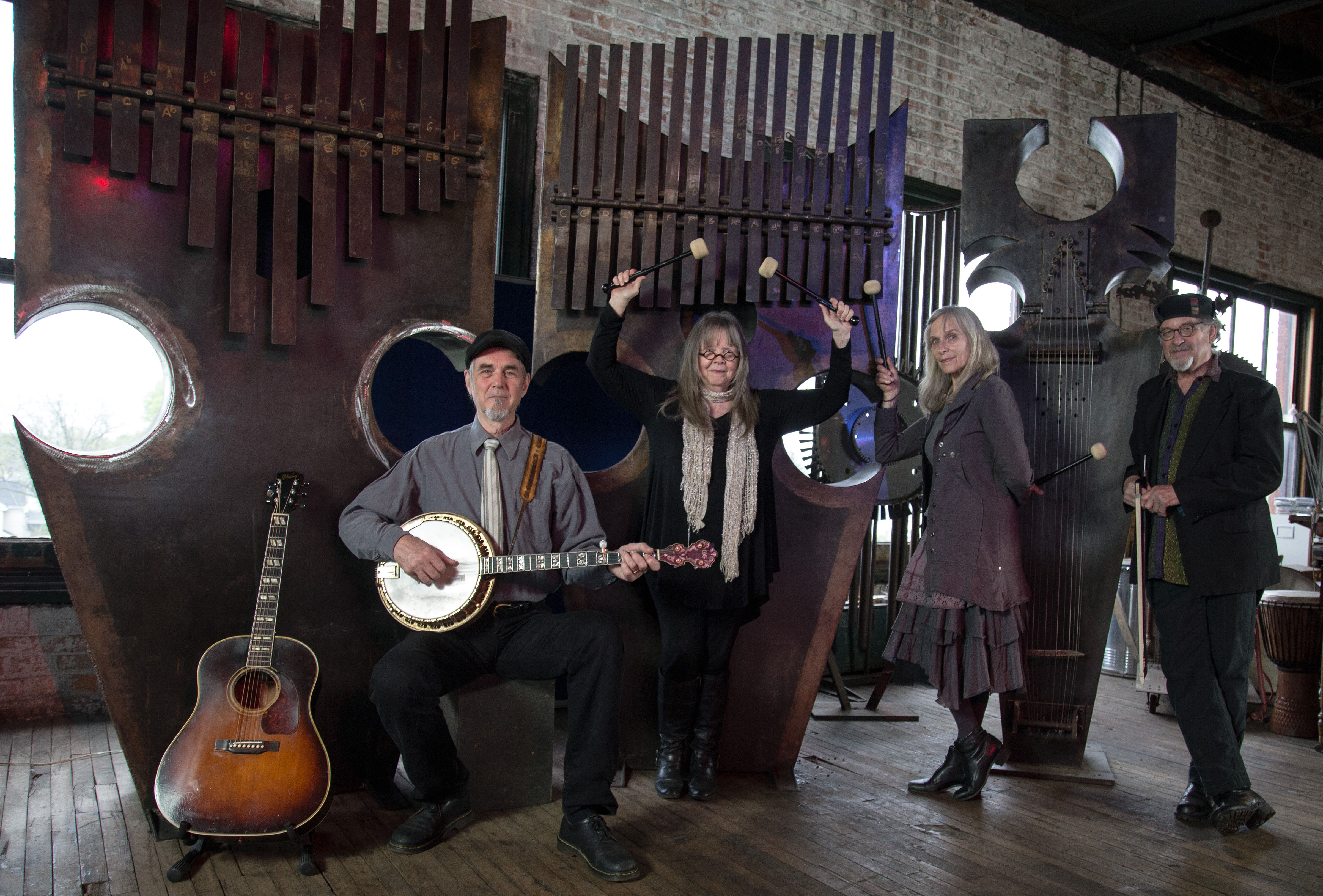 Rick, Sandy, Sharon and Michael – photo by Richard Nordstrom
Our latest musical endeavor has us teamed-up with our longtime Ohio friends, Michael & Sandy Bashaw. We call ourselves The Elements and we do our best to keep it real in a most eclectic way.
There seems to be a growing trend towards songs of political activism and The Elements are diving in head first. With a strong base of original topical songs and a tasty bunch of classic covers, we are looking forward to rolling tape and producing a collection of timely songs, just in time for another dreaded election year. Stay tuned for updates.
We just finished up a very special weekend of shows at the Dayton Theatre Guild where we featured Michael's magnificent Sound Sculptures, along with our usual array of instruments and The Elements signature eclectic repertoire.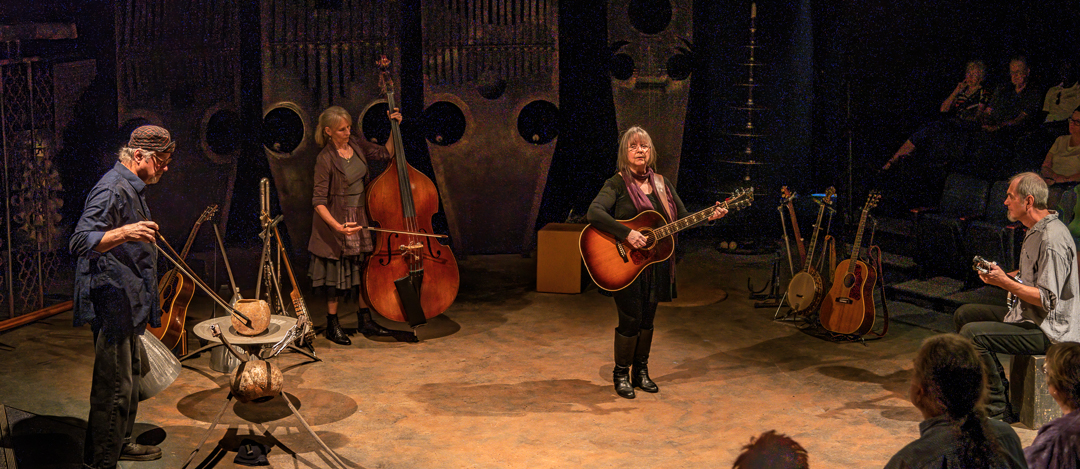 Michael, Sharon, Sandy & Rick – photo by Bruce Soifer
This rare Theater of Sound concert strove to fill the hearts and minds of our audience with inspiration and feeling and, by all accounts, we were successful.
For those of you who went to the concert and want to see a set list with all the credits, go to The Elements page on this website and scroll down a bit.
Also, check out the short VIDEO that Sharon put together to promote the show, and check the CALENDAR now and then for updates.
The Photo at the top of this page is from the video, Where There is Love, one of Michael and Sandy's many fine songs with their band Puzzle of Light. The video was part of the Playing for Change movement and was made in Dayton, by Dayton artists.
GOOD & YOUNG
When were in Louisiana, we have the pleasure of playing with our daughter Emma and her husband Linzay in the Good & Young Family Band.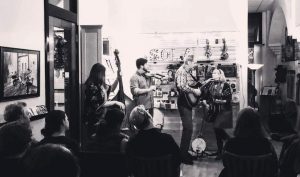 Our latest appearance was December 7th at the Sola Violins in downtown Lafayette. Check out the Good & Young page for more.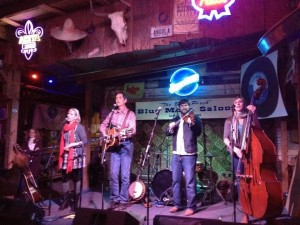 Good & Young at the Blue Moon in Lafayette
GROUND FINE
Sharon's latest dance for camera, which premeired August 3, 2017 at the Acadiana Center for the Arts, has been accepted for screening at several screendance festivals throughout America and abroad.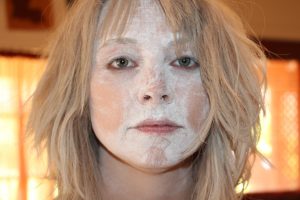 Kelli Jones in still shot from film
The Experimental Film and Music Video Festival runs every three months at the Carlton Cinemas in downtown Toronto and at the LA LIVE Regal Cinemas in downtown Los Angeles.
The stated goal of this festival is to showcase the best new experimental short films from around the world that don't get a fair shake from other film festivals because programmers don't know how to "categorize" them.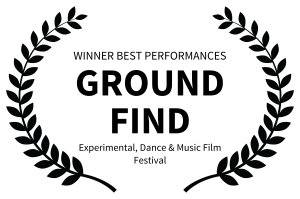 Ground Fine received the award for Best Performances at its screening in Toronto this September.
As part of the 2018 Movies By Movers Film Festival, Ground Fine had a screening at the Nasher Museum of Art at Duke University in Durham in June. This Festival also takes place in the fall at Appalachian State University in Boone.
The DanceBARN ScreenDANCE Festival took place during the DanceBARN Festival in Battle Lake, Minnesota in July. Official selections for the ScreenDANCE Festival were presented during a free outdoor screening at the ArtSTREAM Alley in Battle Lake.
Here's what they had to say about Ground Fine:
Ground Fine is an exquisite work of screendance that takes advantage of the full breadth of the screen medium. I was thrilled to be taken into a truly believable dance universe with trios and duets and solos that wrestle with food, femininity, and domesticity. Of course, I enjoyed the original score and the high production values but I especially enjoyed the careful way in which the score, the body choreography, and the camera choreography all worked together to create a totally seamless and pleasing pace.
Returning to Ontario, Ground Fine was also accepted by the RSVP Experimental Film Festival as part of their "Best of Female Film Festival" lineup. Considered by them to be "one of the best short films from the last year," the screening took place Thursday evening, September 20, 2018, at the Carlton Cinemas in downtown Toronto.
On October 4th at 7:00pm, The Outlet Dance Project included Ground Fine in its presentation of dance films from around the globe at the Grounds For Sculpture, 80 Sculptors Way in Hamilton, New Jersey. This festival features films that have been produced and created by women filmmakers and choreographers.
Regarding Ground Fine, Outlet Dance Directors, donia salem and Ann Robideaux write:
In a world of dance films reflecting the sadness of the state of the world, it is refreshing (and necessary) to watch an upbeat and fun film with real substance. The design draws you in and the variety of dance style shown make this a stand out film.
Tipperary Dance Platform stages its international dance festival in the dramatic landscape of the Aherlow mountains at the heart of Ireland.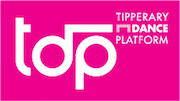 This annual festival invites audiences to a full week of dance, showcasing the latest works of choreographers and film makers.
The 2018 festival ran October 8 – 14, and included live performances, screendance projections, master class programs, symposiums, training for dancers and choreographers, classes for the community, exhibitions, and installations. Ground Fine closed out the evening screenings on October 13th.
The Portland Dance Film Festival in Oregon ran for two weekends in October: Friday and Saturday the 13th and 14th and Saturday and Sunday, the 20th and 21st.
This year's selection of dance films were shown at the Clinton Street Theater.
Rounding out the year for Ground Fine, the 2018 San Francisco Dance Film Festival presented the film at the Brava Theater Center in the Mission District October 11 – 14.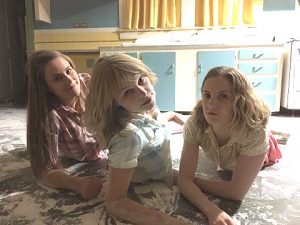 Ground Fine dancers Emma Young, Kelli Jones and Clare Cook
Next up, the first screening of Ground Fine in the New Year will be at the Wexner Center for the Arts on the Ohio State University main campus, in Columbus. The February 13th screening will be part of the annual Dance@30FPS.
Read more on our Ground Fine page.
CARRY IT ON… CARRIES IT ON
In further Dance Film News, the dance film project, Kino Tańca, at the Center of Dance Art in Warsaw, Poland presented Sharon's first film, Carry it on… in November, 2018.
As part of three scheduled dance film evenings, their stated aim is "to present several outstanding dance film productions to the public in order to popularize dance film as a genre." Regina Lissowska, curator of dance films for the Center of Dance Art (CST) in Warsaw, further writes…
There are many things I like a lot in your film. I do appreciate it's quality, and it's artistic value. Also, the sensibility and sense of honesty it gives, and the perfect balance between seriousness, nostalgia, and joy. But what attracted me the most, was that it's very specific in it's context, yet it's universal at the same time. By telling about the particular place, people and their story, it can also refer to other stories and places, the universal human need to stay connected to the land, to each other, the power of community.
We are also delighted to add that Carry it on… was selected for screening at Triskelion Arts Dance Film Lab in Brooklyn.
The film was also screened in 2014, at three of the most prestigious screendance festivals in the United States.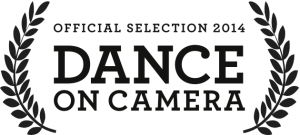 San Francisco Dance Film Festival, November 6-9 at the Brava Theater Center in the Mission District; International Screen Dance Festival, July 12th in Durham, NC at the American Dance Festival (ADF); and Dance on Camera Festival, January 31st – February 4th, co-presented by the Film Society of Lincoln Center and Dance Films Association.
The Film Society of Lincoln Center has further included Carry it on… in their touring roster for the year, resulting in a showing at the 13th Annual Dance on Camera Festival at the University of Michigan, in Ann Arbor.
Now available on DVD!
See our MERCHANDISE Page for details.
See the trailer on our LeahyGood YouTube channel, or view the entire film, embedded at the bottom of our CARRY IT ON FILM page.
See the COLLABORATIONS page for a description of the entire project.
And be sure to check our CALENDAR page regularly for details regarding all our appearances, North & South.
Watch and hear video clips of Sharon's and Rick's work from the vast and varied repertoire of Rhythm in Shoes, now accessible and ever expanding on the LeahyGood YouTube channel, as well as this site's VIDEO page.
Website banner photo by Nate Cooper