WELCOME
… to the website of Sharon Leahy & Rick Good
Original Creations & Living Traditions
DANCE, MUSIC, THEATER & FILM
The creative team of Leahy & Good began making art in the 1980s and has proven through the course of the past thirty-five years to be prolific, eclectic, inspiring and entertaining.
Represented here is our work as individuals, as a duo, and in our current ensembles: Good & Young, The Elements and The Family Business. Also included is content which can no longer be found on the former Rhythm in Shoes website at www.rhythminshoes.org.
WHAT'S HAPPENING?
BIG FAMILY BUSINESS
After a whirlwind three days of rehearsals in Dayton over Labor Day weekend, we all met up north at the Wernette Farm just outside of Remus, Michigan for the 50th Anniversary of the legendary and beloved Wheatland Music Festival, September 8, 9, & 10.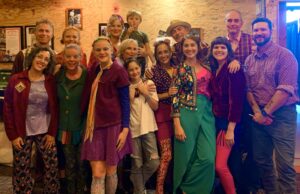 Front row, L to R: Abby, Beth, Violet, Edith, Evie, Meredith, Becky, Linzay; back row, L to R: Sam, Grace, Emma, Sharon, Henri, Ben, Rick
From Michigan, Becky Hill, Meredith Brown and Tom T. Ball; RIS alumni, Abby Ladin, Evie Ladin, Beth Wright, Emma Young, Sam Bartlett and Ben Cooper; Beth's daughters Grace & Violet Wright; and notorious Red Stick Ramblers front man, Linzay Young. Special Guests, Ben Nelson, Adam Wheeler and Sheila Graziano rounded out the cast.
With an ensemble of nine dancers and five musicians, we meant business, and by all accounts, the party atmosphere and BIG Family fun we intended to bring was delivered.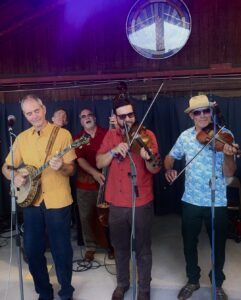 The BFB band: Rick, Sam, Tom, Linzay, Ben
Through a long line of performing groups, we have been proud members of this Central Michigan celebration of grass roots music from the very beginning: The Hotmud Family, The Greengrass Cloggers, The Little Miami Theater Works, The fabulous Rugcutters, The Uncles and Footnotes, Rhythm in Shoes, The Red Clay Ramblers, The Carry it on… project The Family Business and now, the BIG Family Business.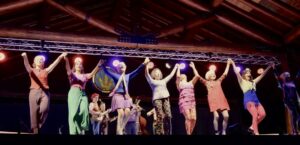 MORE HAPPENINGS
The Elements have a couple of shows coming up.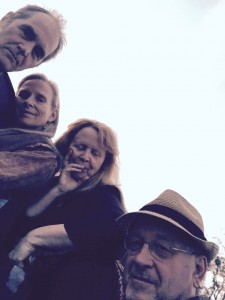 October 7th, at the SRS Rehearsal Stage in St. Anne's Hill, we'll be in concert with our old friend and poet extraordinaire, Jim Dwyer.
October 19th, in the Dayton Arcade, we'll be playing our first evening in what may become a regular third Thursday in the jazz @ GATHER series.
See the Calendar Page for more info.
After the past few years of looking and longing for a light on the far horizon, life is daring us to speak the words "post-pandemic." We've left a record of those many months of precious few engagements on our Calendar Page as a graphic reminder of just how isolated we had to be. BUT, we came out of those pandemic years strong in our belief that the profound immediacy of live performance art is an essential ingredient in a life worth living. The challenge of being creative artists and finding new ways to create in this strange new world is exhilarating. We count ourselves among the lucky ones with friends and family ready, willing and able to journey with us.
ONE HEARTBEAT
In our desire to be a healing force on an ailing planet, The Elements are turning again to the power of music, dance and theater to foster joy through human interaction. With support from Culture Works of Dayton, we are currently developing a new work.
One Heartbeat with the Elements is an immersive, site specific, interactive arts experience. Performances will take place in Michael's Davis Building studio at 400 Linden Avenue, home to the magnificent Sound Sculptures that will feature prominently in the program.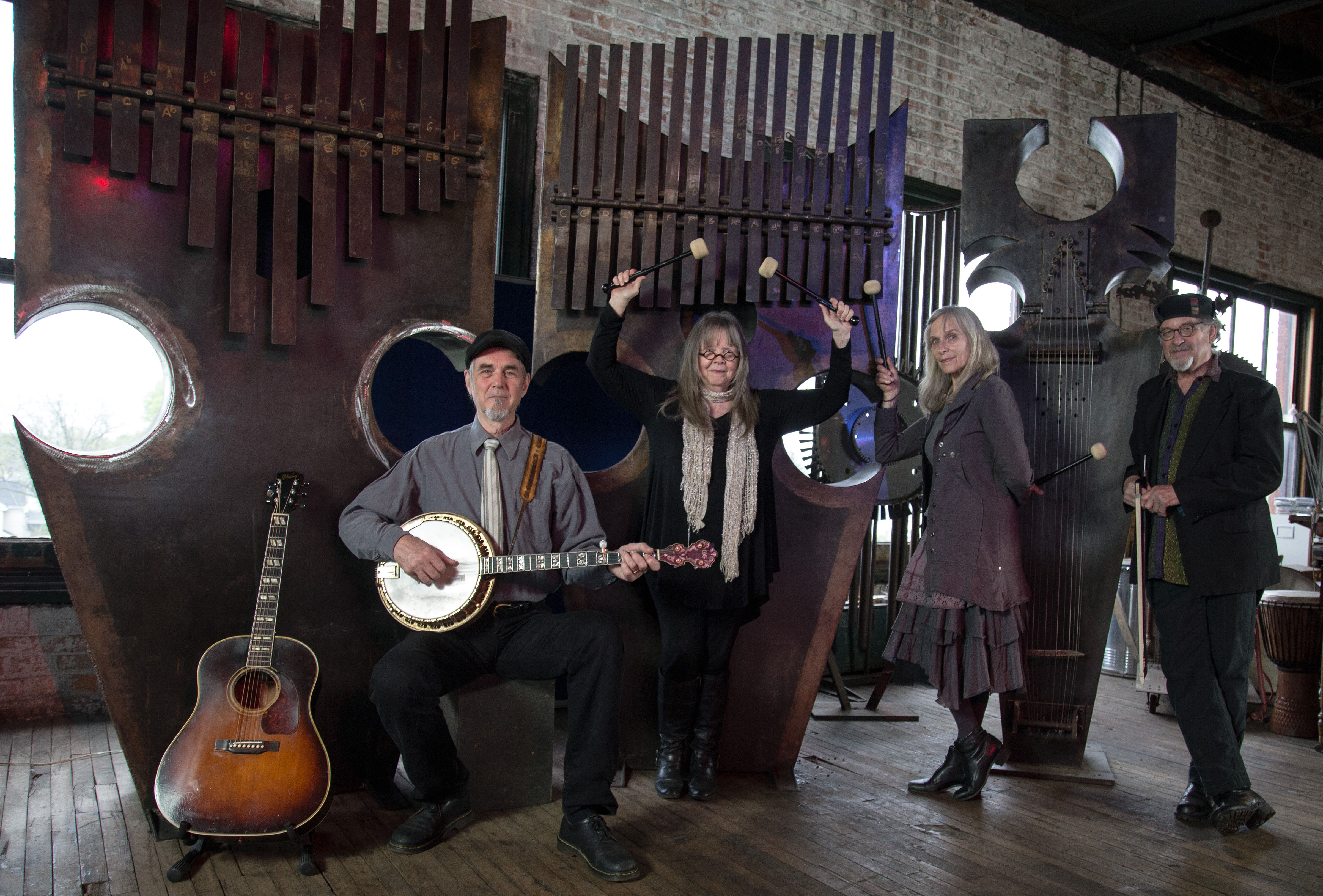 Rick, Sandy, Sharon and Michael – photo by Richard Nordstrom
On the path toward a fulfilled life and an enlightened society we learn to see ourselves as part of a whole.
Nurturing social bonds, not just within groups, but among groups of people, and creating opportunities for gathering, have been at the heart of our work for the past forty years.
Giant kalimbas, leather-soled shoes, banjos, flutes, guitars, harmonicas and drums, voices lifted in song and tunes pushing forward, these are our tools for connecting us all in sound and motion.
By encouraging user participation, the experience will evolve from passive consumption to active engagement.
Stay tuned to The Elements page for more on this.
WHAT'S BEEN HAPPENING
Early last summer, our band, The Family Business made it up to Wheatland's Traditional Arts Weekend in Michigan after a two year postponement.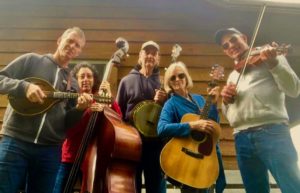 The Family Business: Sam, Abby, Rick, Sharon and Ben
At the other end of the summer we returned to Michigan, September 9-11 for the Wheatland Music Festival.
We also performed a memorable evening concert with The Elements and Puzzle of Light at the Levitt Pavilion in Downtown Dayton on Thursday, the 21st of July. Plus, we traveled to the east for our first live, week long camp in two years when we return to Ashokan Southern Week, August 14 – 20.


Team Clogging at Southern Week
When last we were there we performed our old-timey version of Bob Dylan's lovely love song, If Not for You, on the Old Time Radio Hour, an annual event that features performances by the staff at Ashokan Southern Week.
OLDER NEW WORK
Creatively speaking, we haven't been completely idle. For those of you who remember with fondness the socially conscious folk music of the sixties, our response to a mass shooting in our hometown of Dayton, Ohio, Do Something, is just one example of the original songs Rick has been writing about the ongoing state of our world. You can hear them all on Soundcloud.
And Sharon's most recent film offering is Into the Tunnel, a dance for camera and our time. Watch it and other made for screen dances on her Vimeo Page, and feel free to share them.
Throughout the pandemic we continued to play in our living room with our compatriots, Sandy and Michael Bashaw, AKA, The Elements.
Steadily adding to a strong base of original topical songs and tasty classic covers, we are more determined than ever to rouse the rabble and raise consciousness with the power of music.
SONGS OF PEACE AND FREEDOM
Our last big pre-pandemic production was a very special weekend of shows at the Dayton Theatre Guild where we featured Michael's magnificent Sound Sculptures, along with our usual array of instruments and The Elements signature eclectic repertoire.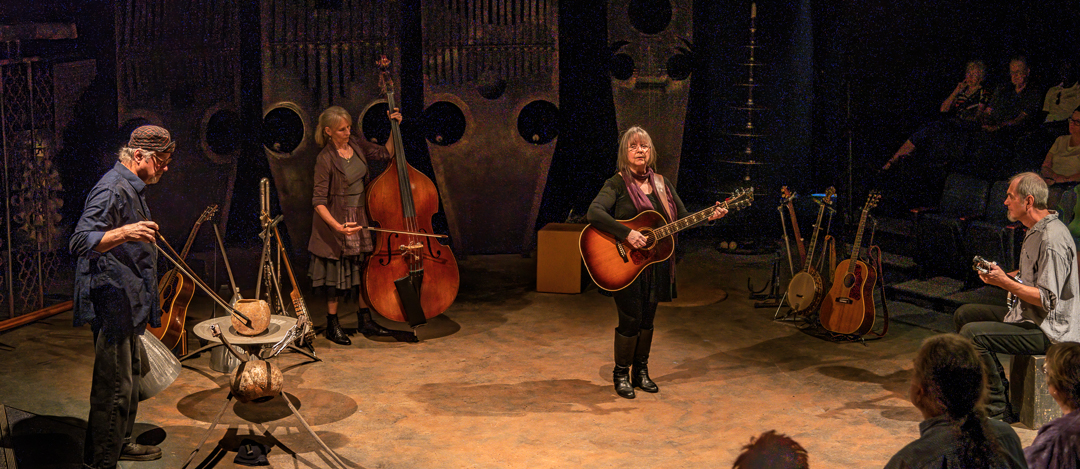 Michael, Sharon, Sandy & Rick – photo by Bruce Soifer
This rare Theater of Sound concert strove to fill the hearts and minds of our audience with inspiration and feeling and, by all accounts, we were successful.
For those of you who went to the concert and want to see a set list with all the credits, go to The Elements page on this website and scroll down a bit.
Also, check out the short VIDEO that Sharon put together to promote the show, and check the CALENDAR now and then for updates.
And also check out the video, Where There is Love, one of Michael and Sandy's many fine songs with their band Puzzle of Light. The video was part of the Playing for Change movement and was made in Dayton, by Dayton artists.
GOOD & YOUNG
Whenever we were in Louisiana, which used to be quite a lot, we had the pleasure of playing with our daughter Emma and her husband Linzay in the Good & Young Family Band. Much to our delight, along with their children, Edith and Henri, the Youngs have resettled in Dayton. Although full-time jobs and parenthood keep them more than busy, we still find time to play our family blend of Oldtime, Bluegrass and Country Music.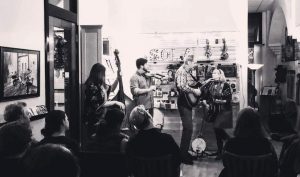 Our last appearance in Louisiana was a streaming concert for the wonderful Oldtime Quarantine Happy Hour series which ran all during the pandemic on Facebook.
Our last live appearances seem like a long time ago. They included; December 7th at the Sola Violins in downtown Lafayette. Stay tuned for future GOOD & YOUNG live shows here in Ohio.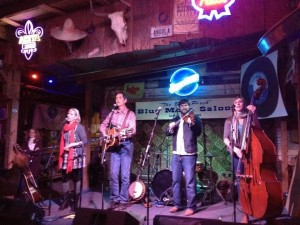 Good & Young at the Blue Moon in Lafayette
NEW RELEASE!
At the Corner of Jekyll and Hyde
a new album by Rick Good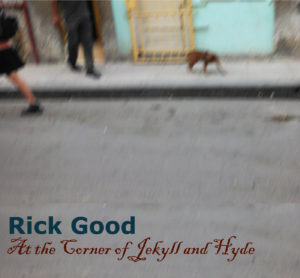 Yes, you can still call them albums.
Bob Dylan once said, The world don't need any more songs. They've got enough. They've got way too many. As a matter of fact, if nobody wrote any songs from this day on, the world ain't gonna suffer for it. Nobody cares. There's enough songs for people to listen to, if they want to listen to songs. For every man, woman and child on earth, they could be sent, probably, each of them, a hundred records, and never be repeated. There's enough songs… Unless someone's gonna come along with a pure heart and has something to say. That's a different story.
And Rick says: I wrote these songs over the course of almost fifty years because I had something to say. As for the purity of my heart, that is a work in progress.
Check out our MERCHANDISE PAGE for more info.
Read more on our Ground Fine page. And be sure to check our CALENDAR page regularly for details regarding all our appearances, North & South.
ON YOUTUBE
Watch and hear video clips of Sharon's and Rick's work from the vast and varied repertoire of Rhythm in Shoes, now accessible and ever expanding on the LeahyGood YouTube channel, as well as this site's VIDEO page.
Website banner photo by Nate Cooper