THE ELEMENTS
Michael & Sandy Bashaw, Sharon Leahy & Rick Good.
This auspicious nexus of four seasoned artists combine the energies of choreographer, composer, dancer, director, musician, playwright, sculptor, singer and songwriter.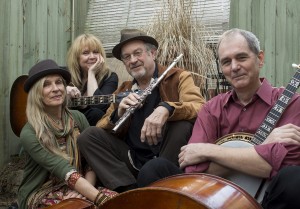 Sharon, Sandy, Michael and Rick – photo by David Sherman
Michael and Rick have known each other since their high school days in the late sixties. It was also then they first heard Sandy playing in local coffee houses. When Sharon hit the Dayton scene in the early eighties, it didn't take long for all of them to recognize kindred spirits, rich in collaborative possibilities. In 1997, their first collaboration, Do You Remember This?, sold out the 2,000 seats of Memorial Hall in Dayton, Ohio.
Playing their own, smart original material, along with the songs of Woody Guthrie, Bob Dylan, Bruce Springsteen, Roger Miller, The Beatles, The Rolling Stones, and The Carter Family, among others, The Elements are drawn to melodies, harmonies and rhythms that call out to them with a feeling generated or a memeory triggered, regardless of the source.
Add the excitement of Sharon's step dancing and you have a show that brings Modern American Folk and Traditional Music to a new level of entertainment.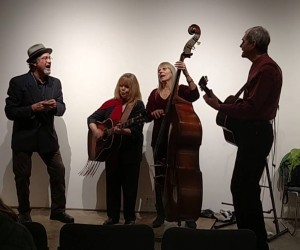 HEAR THE ELEMENTS NOW
1. Green Door (Bob Davie & Marvin Moore) – Sandy: lead vocal


2. He Called Me Baby (Harlan Howard) – Sharon: lead vocal


3. At the Edge (Rick Good) – Rick: lead vocal


4. Georgie Buck (traditional) – Michael: lead vocal


5. The Moon Came Down (Rick Good) – Sharon: lead vocal


6. If Not for You (Bob Dylan) – Rick & Sharon: duet vocal


7. Pastures of Plenty (Woody Guthrie) – Sandy: lead vocal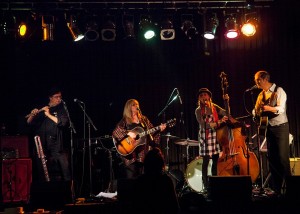 Performing at Gilly's in Dayton, OH – photo by Jan Underwood
BAND BIOS
Multi-instrumentalist/composer Sandy Bashaw began her professional musical career at the age of 18, recording an album for the Vanguard Recording Society in New York City. With acoustic guitar as her main instrument, she has developed a driving, percussive guitar technique as well as a distinctive finger-picking style. In recent years Sandy has, along with her husband Michael, composed and recorded several musical scores for documentary films and has co-produced two music videos celebrating multi-cultural music and musicians in Dayton, Ohio. She also plays guitar and sings with the eclectic ensemble, Puzzle of Light.
Sharon Leahy danced and toured with the Green Grass Cloggers for several years, worked as a dancer in New York City through the 1980s, then moved to Ohio to co-direct and perform with Rhythm in Shoes for twenty-three years. Sharon's love and understanding of music and dance is clearly seen and heard through her award-winning choreography, artful singing and driving rhythm on guitar and bass.
Sculptor/musician Michael Bashaw is well known for his Sound Sculpture concerts, sound installations and collaborations, appearing in a variety of venues and events across the U.S. He plays flutes, harmonicas and percussion with the ensemble Puzzle of Light. Michael has been commissioned for public art/installations and his work appears in numerous private collections. His musical sculpture Sound Chamber in Troy Ohio is listed in the online Smithsonian Collection. Michael is the 2012, Ohio Arts Council Governor's Award winner in the category of Individual Artist.
Rick Good was a founding member of the notorious Hotmud Family, a co-director and performer with Rhythm in Shoes for twenty-three years and a 2010, Ohio Heritage Fellow. He is recognized and respected for his accomplished banjo and guitar playing, his heartfelt singing and crafty songwriting.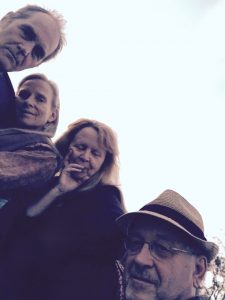 To inquire about The Elements, reach us through our Contact Page.