THE ELEMENTS
Michael & Sandy Bashaw, Sharon Leahy & Rick Good.
This auspicious nexus of four seasoned artists combine the energies of choreographer, composer, dancer, director, musician, playwright, sculptor, singer and songwriter.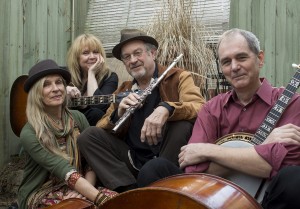 Sharon, Sandy, Michael and Rick – photo by David Sherman
Michael and Rick have known each other since their high school days in the late sixties. It was also then they first heard Sandy playing in local coffee houses. When Sharon hit the Dayton scene in the early eighties, it didn't take long for all of them to recognize kindred spirits, rich in collaborative possibilities. In 1997, their first collaboration, Do You Remember This?, sold out the 2,000 seats of Memorial Hall in Dayton, Ohio.
Playing their own, smart original material, along with the songs of Woody Guthrie, Bob Dylan, Bruce Springsteen, Roger Miller, The Beatles, The Rolling Stones, and The Carter Family, among others, The Elements are drawn to melodies, harmonies and rhythms that call out to them with a feeling generated or a memeory triggered, regardless of the source.
Add the excitement of Sharon's step dancing and you have a show that brings Modern American Folk and Traditional Music to a new level of entertainment.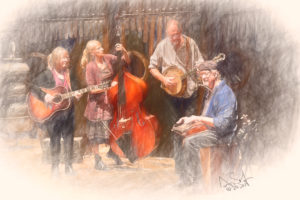 photo by Bruce Soifer
The Elements have a couple of shows coming up.
October 7th, at the SRS Rehearsal Stage in St. Anne's Hill, we'll be in concert with our old friend and poet extraordinaire, Jim Dwyer.
October 19th, in the Dayton Arcade, we'll be playing our first evening in what may become a regular third Thursday in the jazz @ GATHER series.
See the Calendar Page for more info.
ONE HEARTBEAT WITH THE ELEMENTS
In our desire to be a healing force on an ailing planet, The Elements have turned once again to the power of music, dance and theater to foster joy through human interaction.
With support from Culture Works of Dayton, we developed a new work called, One Heartbeat. Through original music and songs, percussive dance, and audience interaction we aim to synchronize the rhythm of our heartbeats and forge a bond of shared compassion.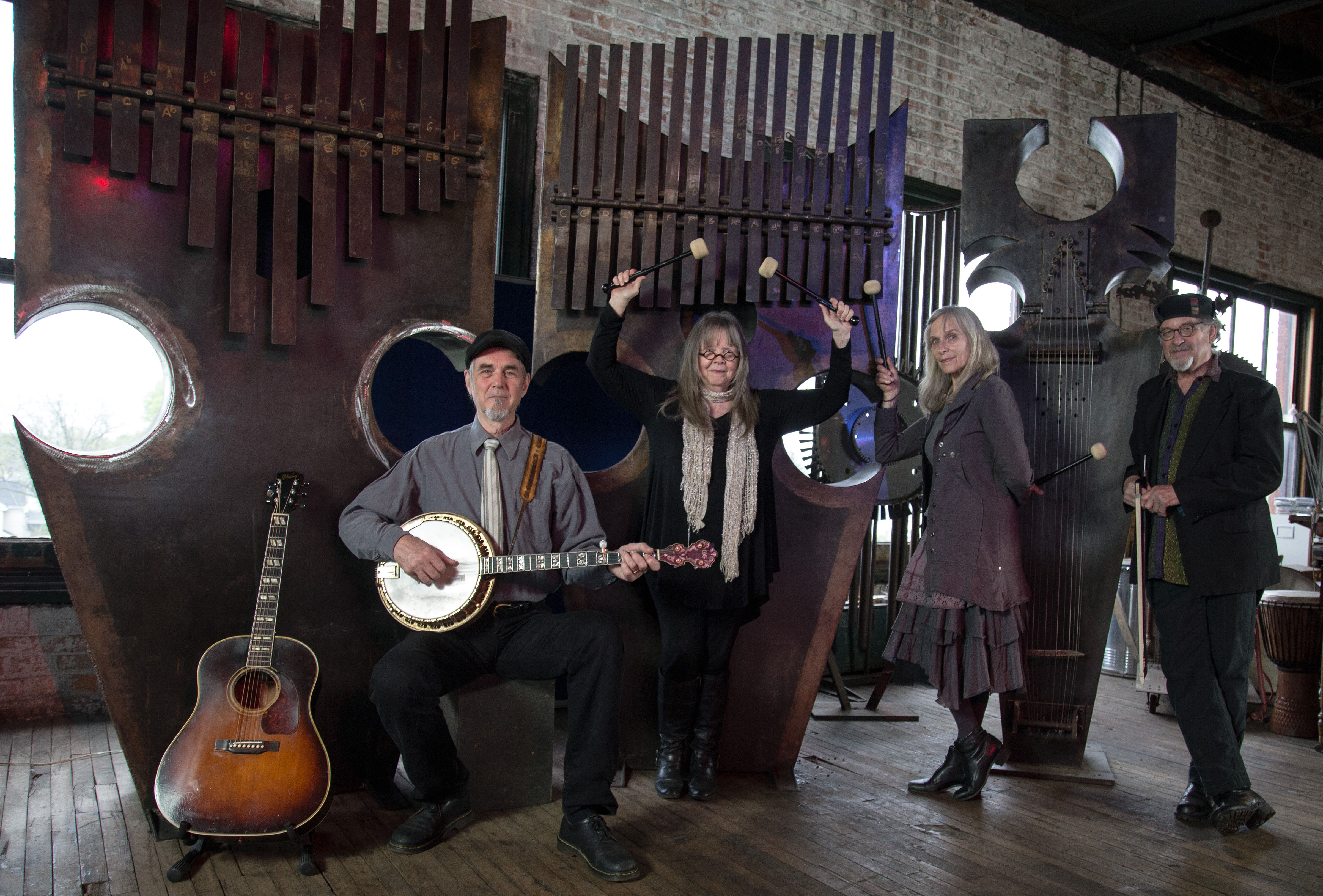 Rick, Sandy, Sharon and Michael – photo by Richard Nordstrom
Three workshop performances for invited guests have already taken place in Michael's Davis Building studio, home to the magnificent Sound Sculptures that feature prominently in the program. Stay tuned for news about future One Heartbeat happenings.
PREVIOUSLY
Here is the program of our most recent concert creation:
Theater of Sound featuring The Elements
June 28, 29 & 30, 2019
Dayton Theatre Guild
1. Gotta Go – Rick Good
2. Veldt & Village – Michael Bashaw
Come, my friends,
'Tis not too late to seek a newer world.
Push off, and sitting well in order smite
The sounding furrows; for my purpose holds
To sail beyond the sunset, and the baths
Of all the western stars, until I die.
It may be that the gulfs will wash us down;
It may be we shall touch the Happy Isles…
Though much is taken, much abides; and though
We are not now that strength which in old days
Moved earth and heaven, that which we are, we are,
One equal temper of heroic hearts,
Made weak by time and fate, but strong in will
To strive, to seek, to find, and not to yield.
Alfred Lord Tennyson
Ulysses
3. House Carpenter – traditional
4. For What It's Worth – Stephen Stills
After a time of decay comes the Turning Point; the light that has been banished, returns.
I Ching
5. Little Wheel – Buffy St. Marie
6. Lady Margaret – traditional
I will arise and go now, and go to Innisfree,
And a small cabin build there, of clay and wattles made;
Nine bean-rows will I have there, a hive for the honey-bee,
And live alone in the bee-loud glade.
And I shall have some peace there, for peace comes dropping slow,
Dropping from the veils of the morning to where the cricket sings;
There midnight's all a glimmer, and noon a purple glow,
And evening full of the linnet's wings.

I will arise and go now, for always night and day
I hear lake water lapping with low sounds by the shore;
While I stand on the roadway, or on the pavements grey,
I hear it in the deep heart's core.
William Butler Yeats
The Lake Isle of Innisfree
7. The Calling – Rick Good
8. The Storm – Sandy Bashaw
9. Darkness, Darkness – Jesse Colin Young
10. Georgie Buck – traditional
There is a crack, a crack, in everything. That's how the light
gets in.
Leonard Cohen
Anthem
11. Oh, Sister – Bob Dylan, Jacques Levy
(It is time) to abandon our tolerance of the abuse of power by those who betray for profit the elementary decencies of life… The test of our progress is not whether we add more to the abundance of those who have much; it is whether we provide enough for those who have too little.
Franklin D. Roosevelt
Second Inaugural Addess
12. Never Too Old – Rick Good
13. Hooves On Heather – Michael Bashaw
There's only so much of creation a creature can conceive, but those with keener sight believe. While skeptics slept and mystics wept they did perceive and they did accept the blinding dark matters of heart that keep us all from flying apart. The Heavenly Dome could never hold it together with only the stars that shine.
Rick Good
Nova Town
14. The Moon Came Down – Rick Good
15. Can You Take Me Back – Paul McCartney
And in the end, the love you take is equal to the love you
make.
Paul McCartney
The End
16. If I Had A Hammer – Pete Seeger
HEAR THE ELEMENTS NOW
1. Green Door (Bob Davie & Marvin Moore) – Sandy: lead vocal


2. He Called Me Baby (Harlan Howard) – Sharon: lead vocal


3. At the Edge (Rick Good) – Rick: lead vocal


4. Georgie Buck (traditional) – Michael: lead vocal


5. The Moon Came Down (Rick Good) – Sharon: lead vocal


6. If Not for You (Bob Dylan) – Rick & Sharon: duet vocal


7. Pastures of Plenty (Woody Guthrie) – Sandy: lead vocal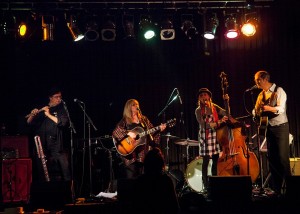 Performing at Gilly's in Dayton, OH – photo by Jan Underwood
BAND BIOS
Multi-instrumentalist/composer Sandy Bashaw began her professional musical career at the age of 18, recording an album for the Vanguard Recording Society in New York City. With acoustic guitar as her main instrument, she has developed a driving, percussive guitar technique as well as a distinctive finger-picking style. In recent years Sandy has, along with her husband Michael, composed and recorded several musical scores for documentary films and has co-produced two music videos celebrating multi-cultural music and musicians in Dayton, Ohio. She also plays guitar and sings with the eclectic ensemble, Puzzle of Light.
Sharon Leahy danced and toured with the Green Grass Cloggers for several years, worked as a dancer in New York City through the 1980s, then moved to Ohio to co-direct and perform with Rhythm in Shoes for twenty-three years. Sharon's love and understanding of music and dance is clearly seen and heard through her award-winning choreography, artful singing and driving rhythm on guitar and bass.
Sculptor/musician Michael Bashaw is well known for his Sound Sculpture concerts, sound installations and collaborations, appearing in a variety of venues and events across the U.S. He plays flutes, harmonicas and percussion with the ensemble Puzzle of Light. Michael has been commissioned for public art/installations and his work appears in numerous private collections. His musical sculpture Sound Chamber in Troy Ohio is listed in the online Smithsonian Collection. Michael is the 2012, Ohio Arts Council Governor's Award winner in the category of Individual Artist.
Rick Good was a founding member of the notorious Hotmud Family, a co-director and performer with Rhythm in Shoes for twenty-three years and a 2010, Ohio Heritage Fellow. He is recognized and respected for his accomplished banjo and guitar playing, his heartfelt singing and crafty songwriting.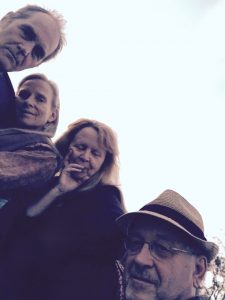 To inquire about The Elements, reach us through our Contact Page.