GROUND FINE

The film crew: front row: Emma Young, Clare Cook, Kelli Jones; back row: Sharon Leahy, Rick Good, Megan Hague, Erick Stoll
Filming took place in April, 2017, in the 1950s style kitchen of Camelia House where three dancers expressed in movement their rocky relationship with food.
A peak into the process of making GROUND FINE can be had at Sharon's Vimeo page.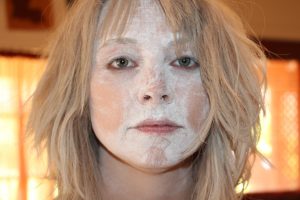 Kelli Jones in still shot from film
Dancer Emma Young, daughter of Sharon and Rick, is no stranger to Rhythm in Shoes fans, nor is Kelli Jones, a graduate of the University of Louisiana Dance Department who also danced with RIS. Clair Cook, whose own company, Clare Cook Dance Theater was a key player in the presentation of the film's premiere (see below), rounds out the dancing trio.
The sountrack is a song that Rick wrote for the film with '50s swamp pop favorites, Cookie and His Cupcakes in mind. Titled, Why Must I Love What Hurts Me So, it features Rick and Sharon on duet vocals with Joel Savoy on electric guitar, Nick Stephan on sax and keyboard, Cal Stevenson on bass, and Danny DeVillier on drums.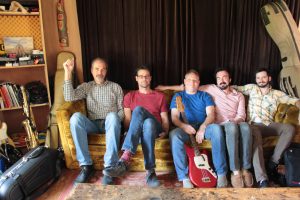 The Boys in the Band: Rick, Danny, Cal, Joel, Nick
Ground Fine was part of a project called STIR that culminated in performances at the Acadiana Center for the Arts, August 3 – 5, 2017.
Presented by Runaway Dish & Clare Cook Dance Theater, the project paired choreographers with chefs — a natural for Louisiana.
Each piece of choreography was accompanied before, after or during its performance by food prepared by the collaborating chef. Sharon was paired with chef, Katie Platt of Feel Good Foods.
Ground Fine was be the only film shown at the otherwise live performances.
If you didn't make it to the ACA in August, you can look forward to seeing the finished product at any number of dance film festivals across the country and points abroad. (See "What Happening" on the WELCOME page for film festival details)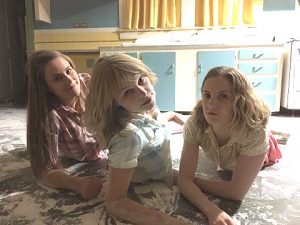 Watch GROUND FINE on Vimeo