MERCHANDISE
NEW RELEASE!
At the Corner of Jekyll and Hyde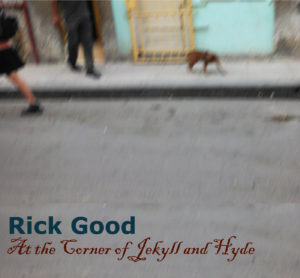 I say I wrote these songs and I did, though they be more wrought than written, over the span of almost fifty years. Some are old as then, some new as now, and some part both. They're not all about me but they are about us. I recorded them at my home in Spring Valley, Ohio, off and on from 2009 to 2019. This is also where the songs were mostly written, although, it must be said that sitting in the driver's seat of one band vehicle or another, zoning out and missing exits, was a significant part of the process.
Just Rick and his old Gibson J-50 playing and singing a collection of heartfelt and soul-stirring songs, written over the course of more than forty years.
At the Corner of Jekyll and Hyde, Is There No Unbroken Heart?, A Game of Chance, We All Belong to God, Marilyn Monroe Blues, Moon Over Venus, If Only I Knew Then, Stuff Like That, Invisible People, Something Blue, Summers Without End, Listen to that Weeping Willow, Why Do I Cry?
Available now at Apple Music.
Or you can order it by mail (CD $15) and pay by check (see below).
NEW DVD RELEASE!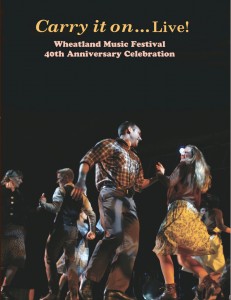 photo by Peggy Brisbane
The Carry it on… Live! DVD was released just in time for the 41st Wheatland Festival, in September of 2014. This dance extravaganza took place at the Wheatland Music Festival's 40th Anniversary Celebration and featured over seventy performers, including the finest percussive dancers in the country.
The live concert set is available for digital downloading at the Wheatland Music Organization website. A limited number of collector's copies with an eight-page commemorative booklet is also available, while they last.
DVD RELEASE!


Carry it on… a film by Sharon Leahy
A Dance for Camera created, performed and shot on site at the Wernette Farm outside of Remus, Michigan, home to the Wheatland Music Festival for the past 40 years, the film focuses on the sacred power and potential of place and our relationship to it. Moving through, with and around open fields, a pine grove and an old stage, the cast of dancers and musicians explores humankind's relationship to the environment and our universal need to gather.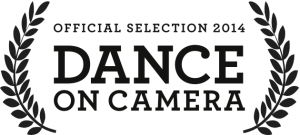 Film Society of Lincoln Center – New York, NY
Director, Choreographer: Sharon Leahy
Music: Rick Good, Cleek Schrey
Dancers: Ira Bernstein, Christine Galante, Nic Gareiss, Matt Gordon, Becky Hill,
Abby Ladin, Sharon Leahy, Matt Olwell, Zane Terry, Emma Young
Musicians: Kevin Anderson, Sam Bartlett, Ben Cooper, Rick Good, Cleek Schrey
Children: Ruth Bartlett, Stefan Bartlett, Wade Bartlett, Clay Cooper,
Olive Cooper, Olivia Good
Cinematography: Erick Stoll, Megan Hague, Andy Snow, Mike Buol
Color Correction: Chase Whiteside
Audio Mixing & Mastering: Tim Berger, Karl Benge
Now Available on DVD. Send your check for $18.00 to:
Sharon Leahy
P.O. Box 345
Spring Valley, OH 45370
… or go to the Wheatland Music Organization to order online and pay with your credit card.
NEW ALBUM RELEASE!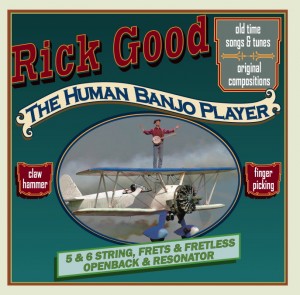 Rick Good: The Human Banjo Player
Traditional & original songs & tunes played in clawhammer & finger-styles on the four, five and six-string banjos
with Rick Good, Sharon Leahy, Paul Kovac, Ben Cooper, Emma Young, Rayna Gellert, Jack Herrick and Kevin Anderson
Rick's long-awaited collection of banjo music, representing over forty years of playing, is now available for order. With seventeen tracks of traditional and original music played in both the clawhammer and finger-styles on several different kinds of banjos, lovers of the five-string banjo are in for a real sonic treat.
Rick is a wonderful writer of songs and tunes… and boy, can he play the banjo! His love for the old sources shines throughout… there's not a clunker in all 17 of the songs and tunes… he has put forth some very cool arrangements and ideas in this fine CD.
Alice Gerrard – Old Time Herald – Volume 13, Number 5
If you like banjo in any form, you will love this disc. It is a masterpiece performed by a master musician.
Dan Levenson = Banjo Newsletter Volume 40, Number 12
Available now at Apple Music.
Or you can order it by mail (CD $15) and pay by check (see below).
Durham's Ninth, Always Lift Him Up and Never Knock Him Down, Trouble on the Brandywine, Bottled and Sold, Tuff Buck, The Cat's Got the Measles, Sally Goodin, Streets of the Capitol, Run, Molly, Run, Rocky Fork, Devil in the Wind, Pretty Little Girl I Brought Along, Flowery Girls Quintet, All Going Out and Nothing Coming In, Bottomland, Flowery Girls, I'm Gettin' Happy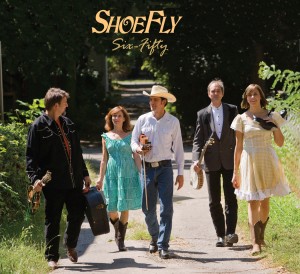 Six-Fifty – ShoeFly
Old Time, Bluegrass & Honky-Tonk Music
with Rick Good, Sharon Leahy, Paul Kovac, Ben Cooper and Emma Young
Available now at Apple Music.
Or you can order it by mail (CD $15) and pay by check (see below).
Eight More Miles to Louisville, Rocky Road of Love, Just One Teardrop, Go On Nora, But I Do, Count On Bein' Blue, A Year Ago Today, Things in Life, Logan County Blues, Foggy Mountain Brokedown, All Night Long, I'll Come Running, Chilly Winds, Give Me the Roses, When I Get Home, Onion Tops & Turnip Greens
ALSO AVAILABLE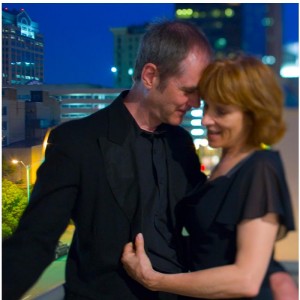 TrueBlue – Sharon Leahy & Rick Good
a collection of love songs in the swing tradition
with Greg Dearth, Pete Sutherland, Ben Cooper and Kevin Anderson
I Would Do Most Anything for You, I Don't Know Enough About You, A Kiss to Build a Dream On, Our Love is Here to Stay, Born to Be Blue, Kind'a Lonesome, True Love Covers a Multitude of Sins, Ten Cents a Dance/Just a Gigolo, That's Life I Guess, Foolin' Myself, You're Gonna Change Your Mind, Gone on that Guy, We Didn't Give Up
Available now at Apple Music.
Or you can order it by mail (CD $15) and pay by check (see below).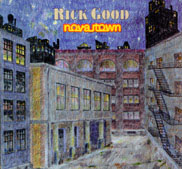 Nova Town – Rick Good
original songs from the critically acclaimed production
with Tom T. Ball, Sam Bartlett, Malkum Gibson, Abby Ladin, Sharon Leahy and Linda Handelsman
Nova Town, Saturday Night, Hasbeens, Funny Blues, Pocketwatch, Long Shot on a Fat Chance, Nothin' Wrong with Neon, Smooth Move, I Never Could Keep a Secret, Once Bitten, That's That, We Didn't Give Up, Dream Come Untrue, Don't Look Back, Saturday Night, Sunday Morning, Nova Town (reprise)
Available now at Apple Music.
Or you can order it by mail (CD or cassette $15) and pay by check (see below).
intentional Music
a retrospective of innovative music for dance, from the repertory of Rhythm in Shoes, compiled from studio recordings and live performances
with Kevin Anderson, Sam Bartlett, Michael Bashaw, Matt Brown, Ben Cooper, Peter Dodge, Cliff Emery, Malkum Gibson, Jamie Gans, Rick Good, Sharon Leahy, Emma Leahy-Good, Linda Handelsman, John Hayward, Judy Hyman, Rich Stearns and Pete Sutherland
First Dance, At the Edge, Reach, How Can I Keep from Singing, Rapper Sword Dance, Rhythmetic, Twinkle, Twinkle, O' Karuna, Walk with Me, Sevens, Tango Lento, Violets, Gotta Go, El Lamento, Never too Old
Available now at Apple Music.
Or you can order it by mail (CD $15) and pay by check (see below).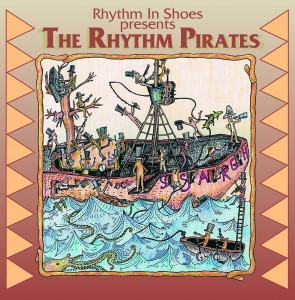 Rhythm in Shoes presents The Rhythm Pirates
with Sam Bartlett, Malkum Gibson, Rick Good, Sharon Leahy, Frank Hall, Linda Handelsman, Danny Novec, Clayton Schanilec and Erin Schrader
Struck by Lightning, Water from the Well, Reuben's Train, Big John McNeil, Devil Take the Farmer, Last of Kelsey, Able and Cain, Out of the Fog, Open Up Your Window, Irish Suite, Don't Let Your Deal Go Down, Spread the News, Brilliant "C" Medley, I'm Getting Happy
Order it by mail (CD or cassette $15) and pay by check (see below).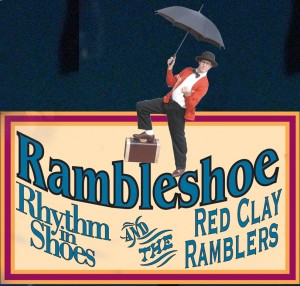 Rambleshoe – Rhythm in Shoes & Red Clay Ramblers
Recorded Live!
with Kevin Anderson, Clay Buckner, Ben Cooper, Chris Frank, Malkum Gibson, Rick Good, Sharon Leahy and Jack Herrick
A Day's Journey, Rambleshoe/Went Down the Road, Circus Stomp, Rough Ride, John Henry/Roll, Roll, Roll, Cowboy Sand Dance, Waltz of the Rain, Flight of the Air Beeves – Reprise, El Tango de Zapatas Nueve, Seven Jolly Pirates, Spinning Blades, Carryin' Stone, Home, The Devil with the Devil, Mr. Rambleshoe
Order it by mail (CD $15) and make your check payable to:
Rick Good
P.O. Box 345
Spring Valley, OH 45370