THE FAMILY BUSINESS
Rick Good, Sharon Leahy, Sam Bartlett, Abby Ladin and
Ben Cooper, and also, on occasion, Linzay Young, Emma Young and Nate Cooper
The Family Business spent a fulfilling three days at Wheatland's Traditional Arts Weekend, leading up to Memorial Day.
After a Friday night concert set featuring mostly original songs and tunes, Saturday and Sunday found us teaching workshops in Clogging, Tap Dancing, Line Dancing and Banjo, as well as playing for a square dance and Stuntology.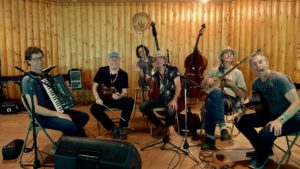 Square Dance Band with Eric and Dave
It was a welcome return to hitting the road, playing music, teaching, jamming and visiting with old friends.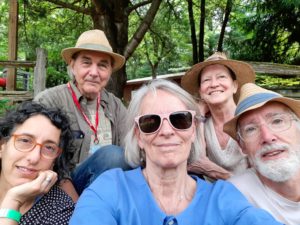 With our old pals, Connie Jo and Doug
Catch us next on the Centennial Stage at the 48th Annual Wheatland Music Festival this September 10 & 11 in Remus, Michigan.