THE FAMILY BUSINESS
Rick Good, Sharon Leahy, Sam Bartlett, Abby Ladin and
Ben Cooper, and also, on occasion, Linzay Young, Emma Young and Nate Cooper
BIG FAMILY BUSINESS
This September 9 – 10, 2023, we return to Remus, MI with an expanded Family of dancers and musicians for the 50th Anniversary of the legendary Wheatland Music Festival.
Last summer, The Family Business spent a great three days at Wheatland's Traditional Arts Weekend, leading up to Memorial Day and returned a few months later to perform on the Centennial Stage at the 49th Annual Wheatland Music Festival September 10 & 11.
After a Friday night concert set featuring mostly original songs and tunes, Saturday and Sunday found us teaching workshops in Clogging, Tap Dancing, Line Dancing and Banjo, as well as playing for a square dance and Stuntology.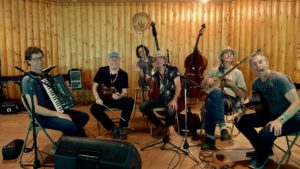 Square Dance Band with Eric and Dave
It was a welcome return to hitting the road, playing music, teaching, jamming and visiting with old friends.