SHARON LEAHY
Choreography – Direction – Song & Dance
Ashtanga Yoga & Thai Massage
"Union is the heart of my work. The rhythm of breath, the power of intention, practicing and teaching, seeking strength, flexibility, balance, the joy of connection, the authority of truth; this fuels each day of discovery and challenges me to reach for the heavens.
I am thankful to the many teachers that have shared their knowledge and wisdom. I am grateful especially to the generous laughers I have known, for they remind me not to take life too seriously. "
"Choreographer/director Sharon Leahy, who works stylishly & lovingly with traditional material, takes the spirit and rhythmic footwork of clogging and tap and sets them in inventive, whistle-clean musical and spatial configurations… Really smart stuff."
Deborah Jowitt – The Village Voice
"Leahy has created a whole new language by combining straightforward step-dance moves with intriguing shifts, turns, jumps and ensemble pattern."
Karen Campbell – The Boston Globe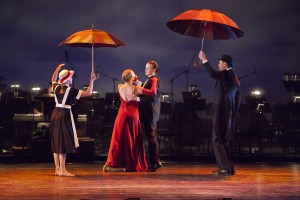 Adieu Mes Ami – photo by Andy Snow
From 1987 to 2010, Sharon created a body of award-winning, critically acclaimed work for Rhythm in Shoes, the dance and music company she co-directed with her husband, Rick Good.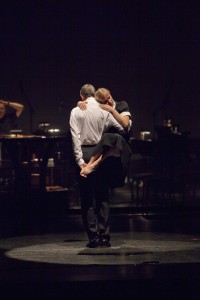 Adieu Mes Ami – photo by Andy Snow
With a diverse and talented group of performing artists, Sharon brought to life a vision for dance/theater/music as one entity capable of expressing the joys and woes of contemporary life with the vocabulary of traditional forms.
Never afraid to step out on a limb or try something completely unproven, Sharon led the RIS ensemble in exploration of their lives and the lives of their community. The repertory was vast, varied and fresh, never failing to connect with the audience in either familiar or unusual ways.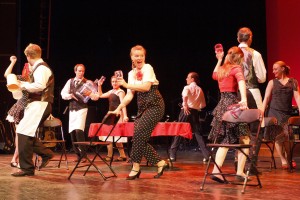 Ladies Lunch – photo by Andy Snow
Themes of her work have included: time, sacred space, forgotten myths and histories, home, family, pretense, relationship and death. She has worked extensively with physical comedy, created historically accurate recreations of vaudeville, and choreographed musical theater and entertainments from the professional to the high school level.
Sharon has taught dance and choreography at the University of Dayton, where she spent six years as an Artist in Residence. There she facilitated cross-department collaborations using dance and theater to explore and explain science, literature, religion, education, world culture, painting and social trends. She also developed a teacher-training program for education students, integrating movement education into the classroom.
Sharon has created original dance/theater works for the dance ensemble at the University of Dayton, as well as Wright State University, Antioch College, the University of Akron and Williams College. She has taught master classes at numerous colleges and universities throughout the country.
With an eye towards universal themes both social and cultural, Sharon's original work is produced with fearless conviction and a refined eye for details. The results can be provoking, soothing, disturbing or entertaining.
AWARDS
National Endowment for the Arts Choreography Fellow – 1991, 1992-94, 1995-97
Ohio Arts Council Choreography Fellow – 1989, 1992, 1994, 1996
Culture Works Opus Award for Artistic Excellence – 1996
Ruth St. Denis Creative Choreography Award – 1983
COMMISSIONS
Jacob's Pillow
National Endowment for the Arts
New England Foundation for the Arts National Dance Project
Ohio Arts Council
Dayton Foundation
Miriam Rosenthal Foundation
Cultureworks Dayton
Mathile Foundation
Dayton Centennial of Flight Celebration
COLLABORATORS
Rick Good – Rhythm in Shoes
Kristi Guillory & Danny Devillier – Bonsoir Catin
Neal Gittleman – Dayton Philharmonic Orchestra
Jack Herrick – Red Clay Ramblers
Nate Cooper – Cirque DeSoleil
Marsha Hannah – Human Race Theater Company
Keith Terry – Crosspulse
The Horse Flies
Tristan Cupp – Zoot Theater Company
Sharon's natural instinct for directing, apparent in her early, backyard family theatricals, has been sharpened with years of study and practice.
Influenced by the work of Ann Bogart and the SITI Company, with whom she studied both Suzuki and Viewpoints techniques, Sharon has developed a dynamic, lively and introspective style of physical theater where vision meets invention.
Notable among recent projects is a masked production of the Tragedy of Hansel & Gretel for the Zoot Theater Company and, for the Human Race Theater Company, Brother Wolf, a retelling of the Beowulf legend.
As director and co-creator for Rhythm in Shoes, Sharon produced three 90-minute original works: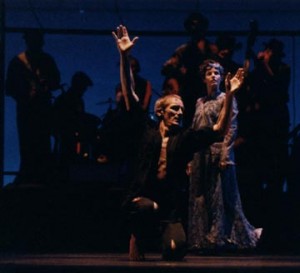 actors Bruce Cromer & Michelle Zimmerman in:
Nova Town – where science meets the blues
photo by Andy Snow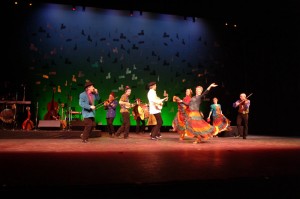 a tango with the Red Clay Ramblers from:
Rambleshoe – a tale of leaving home
photo by Andy Snow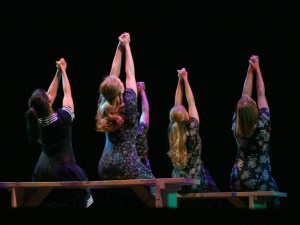 Two Coats from:
Banjo Dance – a celebration of the American spirit
photo by Adam Alonzo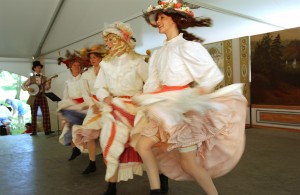 The Four Adorables from:
Doctor Goodfellow's Traveling Vaudeville Entertainment
photo by Denise Mangen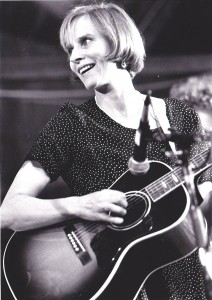 An award winning percussive dancer, a natural musician and a versatile singer with a good ear for harmony, Sharon has been slapping iron to wood, laying pick to strings and lifting her voice in song for over thirty years.
Influenced by pictures of her mother's tap dance performances in vaudeville and her parent's champion swing dance moves, Sharon was drawn to the sounds and movement of rhythm tap. A fiddle and banjo passed on from her grandfather led her to old time music and clog dancing.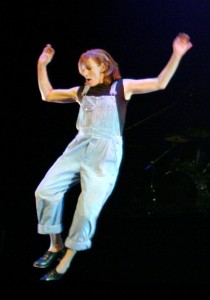 Always searching for new and exciting dance avenues, Sharon studied modern dance at East Stroudsburg University and Clark Center for the Performing Arts, in New York City.
The ultimate fusion of these various forms produced a unique style of composition and technique that Sharon has developed through years of performing.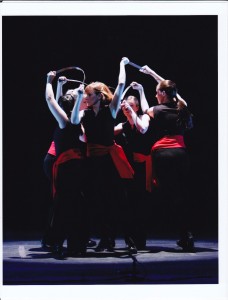 Hooked on harmony, Sharon has enjoyed singing with Rick for the past twenty-seven years and hopes to continue for many more to come. Adding their daughter Emma, who grew up, not surprisingly, with a very good ear further enhances the "family blend."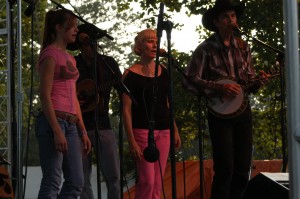 With ShoeFly partner Paul Kovac in the mix, the pleasures of trio and quartet singing have multiplied the fun, and playing rhythm guitar behind son Ben's no-holds-barred fiddling and husband Rick's signature driving banjo keeps the smile on her face from ear to ear.
Sharon began her practice of Ashtanga Yoga to physically support her dance career, deepen her breath for singing, balance the stress of arts administration, calm her mind and open her heart. What she discovered is a deep and difficult path to self-discovery.
A yoga that is more than a "system of exercise" or "breathing techniques" fuels Sharon's practice and teaching. She is a dedicated practitioner and feels blessed to study under the guidance of Rolf & Marci Naujokat in Candolim, Goa, India. Rolf was certified to teach the Ashtanga system by the late Pattabhi Jois of Mysore, India.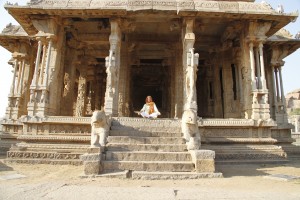 Sharon has completed teacher trainings with David Swenson and Larry Shultz, and participated in workshops with Manuj Jois and Tim Miller. She is a registered yoga teacher with Yoga Alliance.
Happy to devote time and energy to sharing the physical, mental and spiritual benefits of regular yoga practice, Sharon has taught dancers, athletes, musicians, teachers, elementary school students, college students, senior citizens, her family, friends and neighbors.
To intensify hands on adjustments for her students, Sharon also completed advanced level training in the ancient art of Thai Massage, from Ananda Apflebaum.
Thai Massage is one of the four branches of traditional Thai medicine and involves leaning pressure, reflexology, energy line work and stretching.
Integrating this training with her knowledge of strength building, flexibility development and injury prevention from over three decades of teaching and creating dance, Sharon is able to serve those seeking physical health, mental clarity and spiritual growth.
See a printable version of SharonResume.